Hardscapes
Palmetto Coastal has an impressive hardscape division with artistic craftsmen on staff. Each project is a masterpiece. Each job we work on is built with the best materials, workmanship, and pride. Our design team can help you turn your vision into a customized hardscape design that you will love and enjoy for years to come.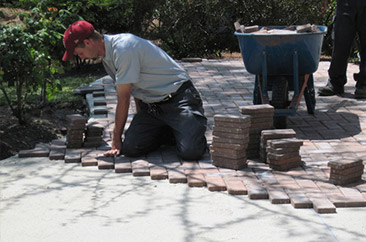 Our team has constructed paver driveways of all shapes and sizes, created back yard patios with fire pits or outdoor fireplaces, constructed pool deck surroundings, and miles of leisure trails. We also build planter boxes, decorative walls, and accent borders. Our team works with clay and concrete pavers and all types of decorative stone to give your project the look that you want.
Our design team can help you create the perfect hardscape addition and our install team will impress you with their attention to detail, craftsmanship, and efficiency during your project. From vertical walls built with decorative stone to driveways, patios, sidewalks, fire pits (both gas and wood) as well as outdoor fireplaces, Palmetto Coastal can help you create the perfect landscape or hardscape addition. We provide free consultation along with design ideas during the first visit. Let us help you with your next hardscape project.


Our Services
Testimonials

The Cypress of Hilton Head Island has the pleasure to be working with Palmetto Coastal Landscaping for the past 8 years. We have found that their distinctive competencies center around their personnel, both management and in the field, as well as their efficiency. Palmetto Coastal's president, Ricky Smith, is always available and communicative, acting like a true partner rather than a vendor.


- Marc Puntereri -
For over fifteen years, the Hilton Head Plantation Property Owners Association has enjoyed an excellent working relationship with Palmetto Coastal Landscaping. They have provided HHPPOA with exceptional Customer Service. Coastal was one of our go to service providers for post Hurricane Matthew and Irma recovery. They are professionals in every sense of the word and have always provided more service than contracted at no additional cost.


- Peter Kristian -
As a GPOA Board Member and past Vice President of Maintenance, I've had responsibility for overseeing the landscaping maintenance activities of Palmetto Coastal. They have provided the GPOA with a stable workforce of qualified, responsive, engaged workers. It is the unanimous view of the Glenmoor Place Owners that Palmetto Coastal has proven to be the best landscaping company in overall consistency and attention to detail.


- David Lang -
Palmetto Coastal Landscaping is an excellent company to work with in any situation. We have enjoyed a positive relationship, using them as our daily landscape company for more than ten years. Their collective knowledge and experience has produced great results regarding our appearance and boosting our sales. We enjoy the relationship and appreciate their partnership over these years.


- Thom Jones -
As plant director for The Cypress of Hilton Head for the past 2 years, I have overseen Palmetto Coastal Landscaping. They are a serious and dedicated company, and have reliability and integrity above question. Palmetto Coastal has also helped us through many storms in the past 2 years including two hurricanes. They are always ready in advance with equipment to clear roads and driveways for our members and staff.


- Dan Ellis -
I am the administrator for several community associations. I have worked with Palmetto Coastal for over eight years and have always found their crews to be very conscientious and responsive to our landscaping needs. Their supervisors are always willing to meet with us to address any concerns we have. I am very happy with the level of service we get from Ricky Smith and Palmetto Coastal.


- William Barrett -



Palmetto Coastal Landscaping and Hardscapes © 2023 - All Rights Reserved