About Us
Palmetto Coastal Landscaping is a locally owned and operated professional landscaping company doing business as a Sub S Corporation. Established in 2005, Palmetto Coastal quickly grew to be one the premier landscaping companies in the Hilton Head and surrounding areas. We have a strong presence in the private community management sector. We also provide residential, regime, and commercial maintenance services. Our construction division is comprised of highly skilled craftsmen who take immense pride in their work.

Some of the many types of work we provide include:


Landscape and irrigation installation
Storm water drainage solutions
Site prep
Retaining walls/decorative wood work
Grading, sod installation
Hardscaping and stone work
And much more
We also have a Tree Service Division with on on-staff Arborist. Palmetto Coastal is a Ieader in our market thanks to our dedicated staff, who continually demonstrate strong work ethics and great customer service.

Our History

The owner of Palmetto Coastal, Ricky Smith, is an Island native born on Hilton Head Island in 1967. He attended the Thomas Heyward School in Ridgeland and the Sea Pines Montessori School. Ricky has worked with some of the Island's oldest companies as they began their ventures in the Lowcountry.

Let's take a look at some of the Island's most notable points in history as it has become the second most visited barrier island on the East Coast.


History of Hilton Head (short version)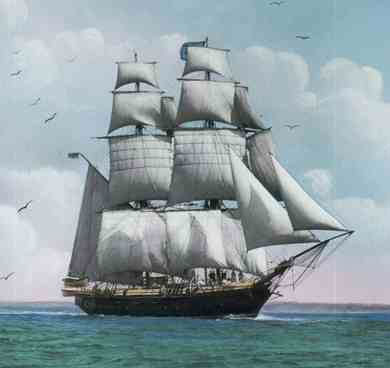 1663 - Capt. William Hilton sailed from Barbados, on the Adventure, to explore lands granted by King Charles II to the eight Lords Proprietors. Hilton Head Island takes its name from a headland near the entrance to Port Royal Sound.

1698 - John Bayley, of Ireland, was given most of Hilton Head Island as a barony. Twenty-four years later, his son appointed Alexander Trench as his agent in charge of selling the land. For a short time, Hilton Head was called Trench's Island on some 18th century maps.

1790 - William Elliott II, of Myrtle Bank Plantation, grew the first successful crop of long-staple, or Sea Island, cotton in South Carolina on Hilton Head Island.

1860 - There were more than 20 working plantations on the island before the Civil War. Most plantation owners did not live on Hilton Head. The island was populated with slaves and overseers.

1862 - Hilton Head's population swelled to over 40,000, including Union troops, civilian store-keepers, missionaries, prisoners of war, and slaves seeking refuge from their owners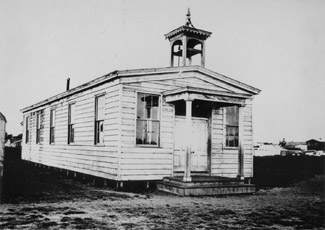 1865 - The First African Baptist Church was founded in August. Several island churches formed out of this church, including St. James, Goodwill, Central Oakgrove, and Mt. Calvary.

1865 - The Queen Chapel A.M.E. Church is founded. Sometimes referred to as Quinn Chapel, this was the first AME church established in the south, when missionaries arrived under the protection of the Union forces.

1868 - Large-scale military occupation of the island had ended. The island's population dropped to only a few thousand.

1872 - The island was once again referred to as Hilton Head Island.

1920s - The Hudsons and Toomers operated oyster factories on Hilton Head Island from the 1890s until the 1950s. By this time, the boll weevil had destroyed almost
all of the Sea Island Cotton in the region.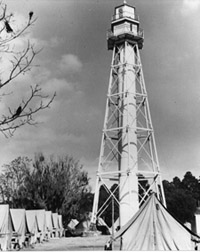 1949 - A group of lumber associates from Hinesville, Georgia, bought a total of 20,000 acres of pine forest on Hilton Head's southern end for an average of nearly $60 an acre. They formed The Hilton Head Company to handle the timber operation. The associates were Gen. Joseph B. Fraser, Fred C. Hack, Olin T. McIntosh, and C.C. Stebbins.



1950 - The first electricity was brought to the island by Palmetto Electric Cooperative.

1954 - Hilton Head Elementary School opened for the island's black students. Isaac Wilborn was the principal of the elementary school from 1954 until it closed in 1974. The school was replaced by a new integrated school constructed on a new site in 1975.

1955 - Coligny Shopping Plaza is established.

1956 - James F. Byrnes Bridge, a two-lane toll swing bridge, was constructed at a cost of $1.5 million. This opened the island to automobile traffic from the mainland. This year, forty-eight thousand cars traveled across the bridge. The toll was discontinued in December 1959.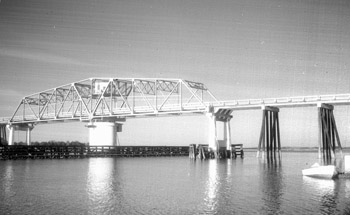 1956 - Charles E. Fraser, bought his father's interest in The Hilton Head Company and began developing it into Sea Pines Plantation.

1956 - The Hilton Head Island Chamber of Commerce was established.

1958 - Telephone service was offered by Hargray Telephone Company. The first Hilton Head office did not open until 1960.

1960 - The island's first golf course, the Ocean Course, designed by George Cobb, was built in Sea Pines Plantation.

1962 - Port Royal Plantation was developed by Hilton Head Company, led by Fred Hack.

1967 - The Hilton Head Airport opened.

1969 - Harbour Town village was completed. The full-time population of the island was 2,500.

1969 - The first Heritage Golf Classic played at Sea Pine's Harbour Town Links.

1970 - Island Packet newspaper was first published.

1970 - The Hilton Head Company started Shipyard Plantation.

1971 - Sea Pines acquired land on the north end of the island, which was developed into Hilton Head Plantation.

1982 - A four-lane bridge was built to replace the two-lane swing-bridge to the island. The island's full-time population was 12,500. More than 500,000 visitors came to Hilton Head in 1982.

1982 - Wexford Plantation and Long Cove Club were developed.

1985 - The population was over 17,000 full-time residents.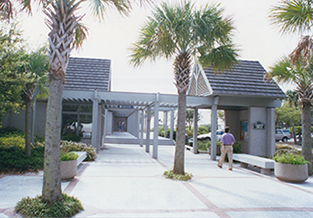 1988 - Purchased 5 acres for Coligny Beach Park (1989) and parking lot.

1989 - The concept of a Cross Island Parkway is approved. The Parkway's bridge spans Broad Creek and links the south end of the island to the north end.

1995 -The permanent year-round population exceeded 28,000 people. The island had over 1.5 million visitors.

1997 - Cross Island Parkway opened in January. The total cost was $81 million for construction, land acquisition, and planning.

Beyond - In 2000 Census population reaches 33,862. The Island has since become a premier tourist destination for travelers all around the world bringing in over 2 million visitors per year and continues to grow.
Our Services
Palmetto Coastal Landscaping and Hardscapes © 2019 - All Rights Reserved