Drainage Solution Systems
Living in the Lowcountry has many advantages. However, the Lowcountry also presents some unique challenges. With a mostly flat topography, diverting water away from structures, driveways, sidewalks, etc. is always a major factor in our landscape design and ongoing maintenance strategy. We have successfully designed and installed numerous drainage systems in the Lowcountry for nearly 30 years.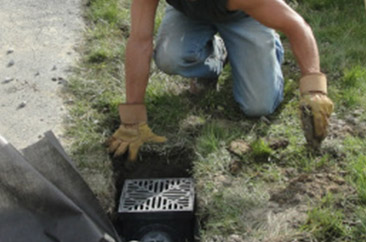 We have developed a new approach to collecting water shed from downspouts, which ensures constant flow and prevents clogs and backups. We have even designed systems that have the ability to carry water uphill before reaching its intended outfall. Palmetto Coastal can help you solve all of your drainage issues, large or small. We have installed systems that utilize four-inch pipe all the way up to thirty-six-inch pipe.
Our drainage solution systems have been proven effective time and time again. Recently, we installed several drainage systems where house flooding frequently occurred, even during afternoon thunderstorms. These drainage systems held up remarkably well and prevented flooding even during hurricane conditions during Matthew and lrma. Don't take our word for it, Speak to any of our customers.

Our reputation for solving drainage problems is proven by our work and the customers we serve. lf you have existing water drainage problems, planning a home addition, or even buying or building a new home, let the experts at Palmetto Coastal help you identify and solve your drainage problems.


Our Services
Testimonials

The Cypress of Hilton Head Island has the pleasure to be working with Palmetto Coastal Landscaping for the past 8 years. We have found that their distinctive competencies center around their personnel, both management and in the field, as well as their efficiency. Palmetto Coastal's president, Ricky Smith, is always available and communicative, acting like a true partner rather than a vendor.


- Marc Puntereri -
For over fifteen years, the Hilton Head Plantation Property Owners Association has enjoyed an excellent working relationship with Palmetto Coastal Landscaping. They have provided HHPPOA with exceptional Customer Service. Coastal was one of our go to service providers for post Hurricane Matthew and Irma recovery. They are professionals in every sense of the word and have always provided more service than contracted at no additional cost.


- Peter Kristian -
As a GPOA Board Member and past Vice President of Maintenance, I've had responsibility for overseeing the landscaping maintenance activities of Palmetto Coastal. They have provided the GPOA with a stable workforce of qualified, responsive, engaged workers. It is the unanimous view of the Glenmoor Place Owners that Palmetto Coastal has proven to be the best landscaping company in overall consistency and attention to detail.


- David Lang -
Palmetto Coastal Landscaping is an excellent company to work with in any situation. We have enjoyed a positive relationship, using them as our daily landscape company for more than ten years. Their collective knowledge and experience has produced great results regarding our appearance and boosting our sales. We enjoy the relationship and appreciate their partnership over these years.


- Thom Jones -
As plant director for The Cypress of Hilton Head for the past 2 years, I have overseen Palmetto Coastal Landscaping. They are a serious and dedicated company, and have reliability and integrity above question. Palmetto Coastal has also helped us through many storms in the past 2 years including two hurricanes. They are always ready in advance with equipment to clear roads and driveways for our members and staff.


- Dan Ellis -
I am the administrator for several community associations. I have worked with Palmetto Coastal for over eight years and have always found their crews to be very conscientious and responsive to our landscaping needs. Their supervisors are always willing to meet with us to address any concerns we have. I am very happy with the level of service we get from Ricky Smith and Palmetto Coastal.


- William Barrett -



Palmetto Coastal Landscaping and Hardscapes © 2023 - All Rights Reserved